Do you feel overwhelmed by all the Hebrew?
Are you looking for a meaningful Seder that you can follow?
There is a seat for you at our Passover Seder.

Our traditional Seder will be led by Rabbi Shimy Heidingsfeld, and will be full of stimulating and insightful explanations as we embark on our journey out of Egypt towards freedom.
To reserve a place  please click here
Great food, Matza and wine!
An Interactive experience for the whole Family! 

1st Seder - Friday, April 19, 7:00 pm 
2nd Seder  - Shabbat, April 20, 7:15pm 
Suggested Donation: Adult $36, Child $25 
Sponsor: $180 Includes 4 seats 
No one will be turned away due to lack of funds
For more information please contact us
805-CHABAD-2 (242-2233)
or seder@JewishMoorpark.com
Looking forwards to see you at the Seder!
Rabbi Shimy and Devorah
To reserve a place  please click here
For all you want to know about Passover 
www.JewishMoorpark.com/passover
At Chabad, we offer a warm, interactive Passover Seder.
The traditional texts are integrated with wisdom and spiked with Jewish humor, while the festive holiday meal is a delight for the body and nourishment for the spirit.
Our Seder is English friendly and not prayer intensive, and everyone can feel welcome.
Enjoy the Holiday of Freedom at a Seder experience you will remember for a lifetime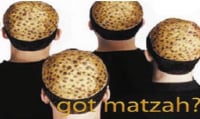 Grace your Seder Plate this Passover with Handmade Matzah Shemurah
A box of three Matzot - $10.00
Matzah Shmurah is also available by the pound @ $18.00 per lb.
To order call 242-2233 or Rabbi@JewishMoorpark.com

(or order online here though it's more expensive)
What is Shmurah Matzah?? For more info, Click here!